With your own captain on a small privatized boat for 1-12 passengers, book the best reviewed boat cruise in Paris!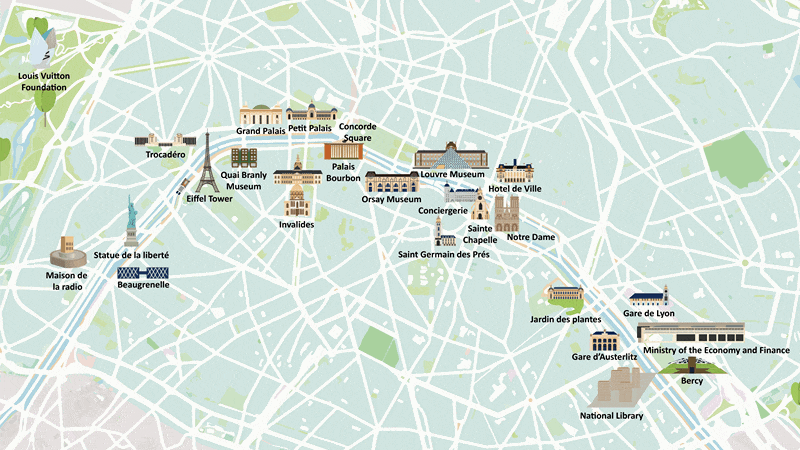 Far from huge crowded boats, this private boat tour is unique! Boarding from Paris Center (location depending on stopping point availability), you will go right next to the Eiffel Tower, Grand Palais, Pont Alexandre III, Musée d'Orsay the Louvre, then we will go right next to Notre Dame to enjoy a one of a kind experience then we will turn to go back and relish the Seine, its bridges and monuments from the other side of the river.
You will have your private pilot to answer all the questions you may have about Paris and France.
About the boats:
Unique boat built especially for our company in 2022, our Riverlounge is the perfect boat for a small group tour on the Seine river in Paris.
A large deck with 12 comfortable seats, all the room to move and enjoy the cruise, a large table for your aperitifs, drinks and meals, 9 speakers, a fridge and a full size toilets on board.
You can come with anything you'd like to drink and eat on the boat (dishes, cutlery and glasses are not provided), a catering service is available on request.
We Pride Ourselves On Customer Satisfaction
Hear From Our Happy Guests

Alex
Murfreesboro, Tennessee
I booked this experience for our last night in Paris as a special way to propose to my girlfriend (now fiancé!) Edouard was our captain for the 8:00 P.M. boat ride and it was an experience that we will remember for the rest of our lives. Even before booking,(…)

Alex
Hartford, Connecticut
Unique and Spectacular. It was quick to see how special this booking was, not just because it is a private tour (although that was awesome), but we observed quickly that is very uncommon. We stepped onboard a gem. Axel's niche for private tours on the Siene is(…)

Once in a lifetime private boat tour down the Seine. No crowds. We only saw one other private boat and saw things you can never see on land. You pass by the very crowded other boats. The boat was in excellent condition and the captain was excellent. Highly highly recommend! Robert
Washington, District of Columbia
This is incredible. The ride is relaxing and scenic. The host is chill and benevolent. The Seine in general is a great time. Makes for a memorable night in (and around) the city.
Who are we?

Boat in Paris's proud background starts in 2016 when Axel bought his first boat. Realizing that there was not a single place to rent boats in Paris, he decided to invest in one and to make it available for locals to rent. Demand grew quickly, but many locals and tourists didn't have the specific licence to operate boats on French Inland Waters, so the boat had to be certified as a passenger boat to make a commercial use of it with a captain (note: this proved to be an administrative headache!).
Now with the correct certifications, he was able to have guests on the boat and quickly gained a reputation as being the only small boat cruising Paris, delivering an amazing travel experience for tourists and locals. The first boat was replaced by a brand new one in 2019, and two more were bought to rent and make tours with very small groups. Other pilots joined the team in 2020, handpicked due to their enthusiasm for Paris. We always want to keep things small and simple, away from the huge crowed boats and closer to our passengers, sharing stories and laughs with everyone while bringing the most personalized experience there is on the river.